IV Nutrition Therapy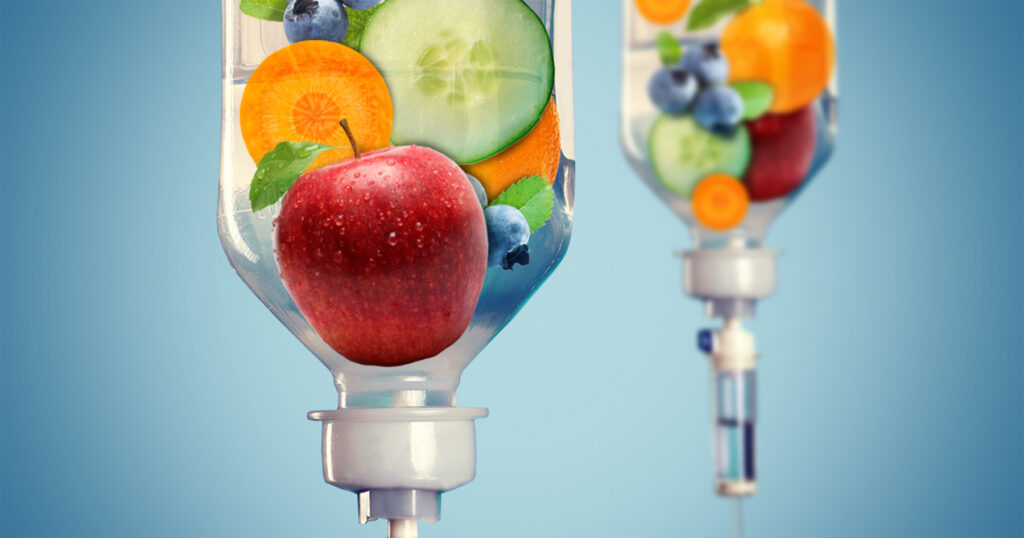 ---
Biotin
Fights hair loss, improves nail health, nourishes skin. What is Biotin? Biotin is a water-soluble vitamin, which means your body can't store it. Biotin is needed both for production and function of enzymes that metabolize carbs, fats and protein. Biotin both supports metabolic function and can elevate your resting metabolic rate (causing food to break down faster) when consumed. Getting enough biotin on a regular basis is an important part of maintaining a healthy metabolism. Use Biotin is great for weight loss, digestive health, skin, hair and nail health. Biotin deficiency is uncommon, but can be caused by malnutrition, alcoholism or certain medications. When the body is low in biotin the side effects can include:
Hair loss
A red, scaly rash
Brittle nails
Depression
Fatigue
Tingling and numbness in the hands and feet
The vast majority of people get all the biotin they need from their diet with biotin-rich food like organ meats, egg yolks, nuts or whole grains.
B12
Boosts energy, improves nerve health, supports digestion: What is B-12?B12 10,000 mcg/ml – 1ml – A natural type of B12 normally produced by bacteria in the digestive tract from food sources. Benefits of B12:
Energy and balance
Better mood
Deeper sleep
Balanced immune system
Mental clarity
Weight loss
Higher metabolism
Should not be given if allergic to cobalt.  
Lipo B12 
Supports weight loss through fat burning.What is Lipo B12? Lipo-B injection/MICC: Gives energy plus fat burning. If your client is working out or eating to lose weight this will help to boost whatever they are doing. Methionine: Helps break down sugars & carbohydrates and convert to energy. Inositol: Converts food to energy Choline: Healthy nerve cells, cuts muscle recovery time, helps convert fat to energy. Cyanocobalamin B12: Energy, healthy nerve cells. If a client is working out or improving their eating habits this injection will help to intensify whatever they are doing to lose weight. It really helps to burn fat and give you energy. How is it supplied? At my local pharmacy it is supplied to me in 10 (1ml) syringes At Olympia it is supplied in a 10ml vial and should be drawn up in 1ml dosage
Glutathione
Antioxidant, can improve recovery time and performance. What is Glutathione? Glutathione is an antioxidant that is produced in our own bodies. It's comprised largely of three amino acids: glutamine, glycine, and cysteine Use This is ideal for athletes. This method not only binds to and removes free radicals from your body but rehydrates you at the same time. The end result is an improved recovery time, decreased muscle damage, and decreased cellular damage from free radicals so that you can improve your performance quickly. Lightens and brightens skin by erasing hyperpigmentation and inhibiting melanin production in cells. Promotes high energy and mental clarity. Glutathione is great for the body. It's the mother of antioxidants. It is produced naturally by the liver and with age it decreases in our systems. It is effective for building muscles, muscle and tissue repair, liver function, improving skin elasticity, may improve psoriasis, helps to improve insulin resistance, reduces cell damage in fatty liver, reduces oxidative stress. It is a master detoxifier. How is it supplied? Supplies vary depending on where you purchase them. Olympia sells it in a 5 ml vial.
Taurine
Muscle repair, athletic boost, fat burning. What is Taurine? Taurine is an amino acid found in the brain, spinal cord, heart and muscle cells as well as white blood cells. Taurine is involved with many bodily functions such as regulating the volume of body cells, adjusting calcium levels inside cells and producing bile salts. The body can produce taurine as needed but it is mostly obtained from animal sources. Supplementing may be necessary to maintain optimal levels particularly in vegetarians and vegans. Use This is a great injection for vegetarians and vegans. And anyone with diabetes, epilepsy, or cardiovascular disease. It is also good for athletic performance, muscle repair and fat burning. How is it supplied? Supplies vary depending on where you purchase them. Olympia sells it in a 50mg/ml vial. IM shots may need a 3mL dose which can be painful for some patients. Consider as an add on to an IV infusion.
Tri-Aminos
Muscle support, naturally increases HGH, wound healing, heart health, erectile function. What is Tri-Aminos? The Tri-Aminos includes three nonessential amino acids that may become sparse until stressful conditions. They play a critical role in maintaining health. Under stress, the body is not able to meet its need for these critical amino acids. The blend includes L-arginine, L-citrulline and L-ornithine. Use Can be used in patients with blocked peripheral arteries due to arginine's role in in nitric oxide production, which relaxes blood vessels. It can help with dementia, and erectile dysfunction. The L-citrulline can also help improve circulatory issues in people with diabetes and can improve circulation to improve wound healing. L-ornithine can eliminate nitrogen from the body. Can be used for muscle support, wound healing, heart health and erectile functioning. How is it supplied? Supplies vary depending on where you purchase them. Olympia sells it in a 30 ml vial.
Tri-Immune Boost
Helps to increase the immune system. What is Tri-Immune Boost? Tri-Immune Boost Injection: Vitamin C, Glutathione, Zinc Helps to increase the immune system as building blocks (so builds a little more with each injection) 30ml vial Recommended dosage 1-2 ml per injection Use: Helps to boost the immune system. Should be taken before and during cold and flu season. During this pandemic these injections can be taken anytime. Recommended to take once a week. It's a building block type of injection. How is it supplied? This is supplied in a 30 ml vial and should be given in 1 ml increments (dose is 1ml)
Vitamin D3
Bone health and immune support. What is Vitamin D3? Vitamin D3 is essential for helping our bodies absorb calcium and phosphate, improving the immune system and can also improve mood. This vitamin is fat soluble and is often referred to as a brain hormone (i.e. why it can help improve mood) because it requires sunlight to be synthesized. Use 40% of Americans are said to be deficient in vitamin D. We get 90% of vitamin D from the sun, so in long winter months, this shot may be beneficial for anyone. How is it supplied? Supplies vary depending on where you purchase them.